It's no secret that saving money is something we should all be doing—and probably aren't doing a great job of. And when you factor in things like retirement, stock market and long-term investments, the whole thing can feel incredibly overwhelming. Thankfully, there are a ton of apps available for Android and iOS that will not only help you start saving, you may even make a little bit in the process. So if you're ready to make it rain, read on.
Betterment
If the idea of investing money seems too hard or time-consuming, Betterment may be the app for you. Acting like a financial advisor would (minus the costly annual fees), Betterment uses a sophisticated program that figures out the best – and cheapest – fund mix for you (it even includes taxes) and then invests and monitors your money over time. After answering a few questions about your financial goals (long and short-term) you simply connect your bank account and sit back while Betterment does all the work.
Download Betterment in the App Store and Google Play Store
Acorns
Think of Acorns like the modern-day piggy bank: it saves your spare change and invests it for you. The main benefit is that after linking a debit or credit card to the app, it simply rounds up your purchases to the nearest dollar and places it in an investment account. For example, if you spent $5.45 on a sandwich, Acorns rounds that up to $6 and puts the $0.55 aside. Once you've accumulated $5-worth of spare change, Acorns automatically invests it for you. After answering some basic questions, it determines which of the five pre-set investment portfolios is right for you. The nice perk of Acorns is you can link multiple debit or credit cards for maximum benefits.
Download Acorns in the App Store and Google Play Store.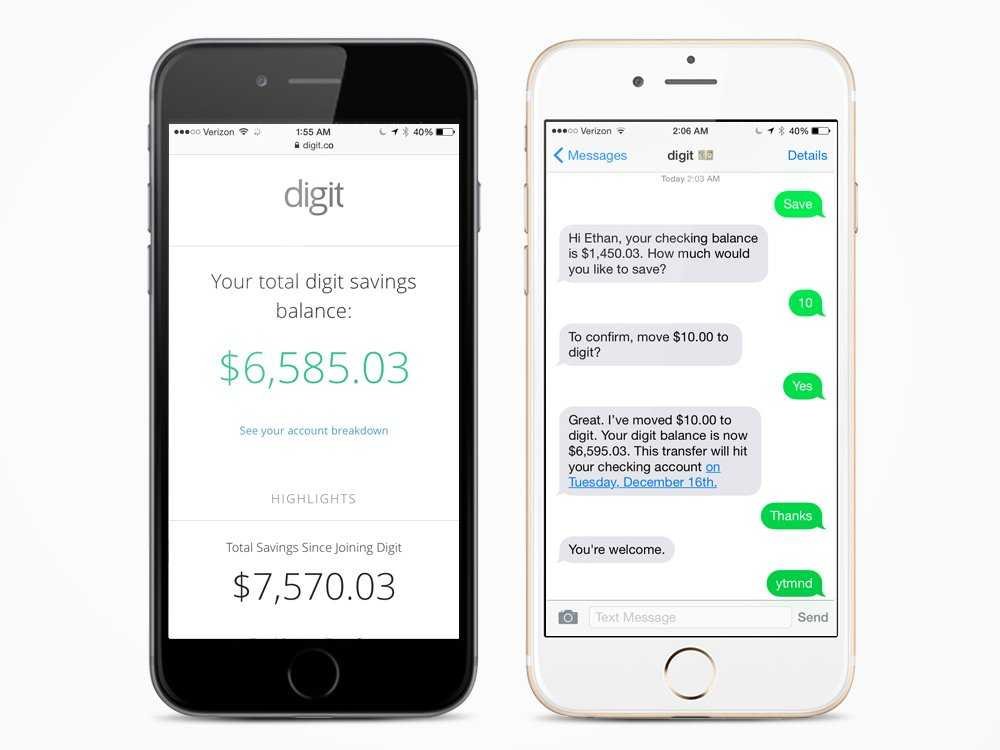 Digit
This app is best for those who truly believe they can't possibly have enough money leftover to save. After connecting Digit to your bank account, it determines every day if there is enough leftover to transfer into a savings account. The app never transfers more than you can afford, so there's no worry about your account overdrafting (in fact, they guarantee it). As soon as you need the money back, you send Digit a text message and the money is transferred into your checking account the next business day.
Download Digit in the App Store and Google Play Store.
Mint
Perhaps the most comprehensive budgeting tool available, this app helps you set budgets, track expenses, and reach financial goals. The program is easily accessed via the mobile app or desktop website and over time it learns your earning and spending habits which allows it to make recommendations. Users get color-coded lists, charts and graphs and receive alerts when it's time to pay a bill or if you've exceeded your budget. Another convenient feature is a weekly email summary comprised of your money along with spending, income and worth.
Download Mint in the App Store and Google Play Store.